What is 🔓 Creators Unlocked?
🔓 Creators Unlocked is a content series that delves into the world of creators to uncover the stories behind their social media posts.
Through in-depth interviews with various creators, the series seeks to provide a deeper understanding of the creative process and the challenges of being a content creator.
From Twitter to TikTok, the articles aim to offer insights and learnings for aspiring and established creators while also offering a glimpse into the lives of those behind the screens.
Welcome to the first installment of our new series, 🔓 Creators Unlocked, where we speak with creators to understand what it's like behind the screens of the tweets and TikToks to learn from their experiences. We are kicking off with Jayde Powell, content marketer/creator extraordinaire.
📬
This interview was already published in our newsletter, so to get your hands on these before anyone else, subscribe here!
Jayde has established herself as a creator, writer, and founder, especially through her series #CreatorTeaTalk hosted through LinkedIn Audio Events every other week to a rapt 100+ audience. On top of her content series, she regularly publishes culture-forward marketing content to her combined audience of 35,000+ followers.
In this interview, we discuss all things content creation – from favorite platforms to her advice for creators on showing up authentically online.
🖊️
This interview has been edited and condensed for clarity.
Q: Welcome, Jayde! I've been following you for a long time, so it's great to finally connect. To jump right in, what inspired you to start creating content on social media?
Content creation was a byproduct of my work and then it became the parts of my work that I love the most. I wouldn't say I was particularly inspired, I've just always consumed and created content. It's just how we kind of define it today that has changed.
I started my career in social media in 2013, around the time when social media marketers were just becoming a thing. That was a different time – when we had to prove the ROI of social media to the businesses and brands that we were working with. And content creation was always part of the work – copywriting, photography, throwing images and text together to make it look good.
Over time, as Instagram became very popular, I was part of the early users creating lifestyle content for the platform. Then I shifted focus to Twitter, where I was doing more marketing and pop culture-focused content. And I've found my voice on each platform and my content has evolved accordingly.
Q: What are your favorite tools for content creation?
I love Canva – I do everything with it. Why get specialized training to use Adobe Photoshop when there's an easy tool right there?
I also love Splice, which I can just use on my phone, Descript for transcribing audio and adding captions, and ezgif, which is great for quickly creating and sharing GIFs. I use Notion for project management and Grammarly for writing content.
Q: What are your goals for 2023, and how will you measure success?
I split my goal-setting in two: goals that align with my career and personal vision for myself, then goals related to my businesses.
My first goal is to create further delineation among all the different brands I have because they all serve different audiences. Another goal is to explore my city, Atlanta, and build community there. Finally, I'm very big on saying no to things so that I don't become stressed. So prioritizing joy is my main focus no matter what I'm doing.
Q: Do you have favorites among the different social media platforms?
My favorite platform depends on my headspace. Sometimes I'm very Twitter-focused; other times, I'm very Instagram-focused. It just depends on where I am mentally and creatively. But I find that certain aspects of each platform play a different role.
For example, LinkedIn is a space where I feel like I am actively challenging people to rethink how they use the platform. I am very informal on LinkedIn because that's how I am in real life. I always want people to know what they get if they work with me. Then there's Instagram which allows me to be a little more creative. And I love Twitter because I can tweet quick thoughts that don't really require creativity. They each have their time and place.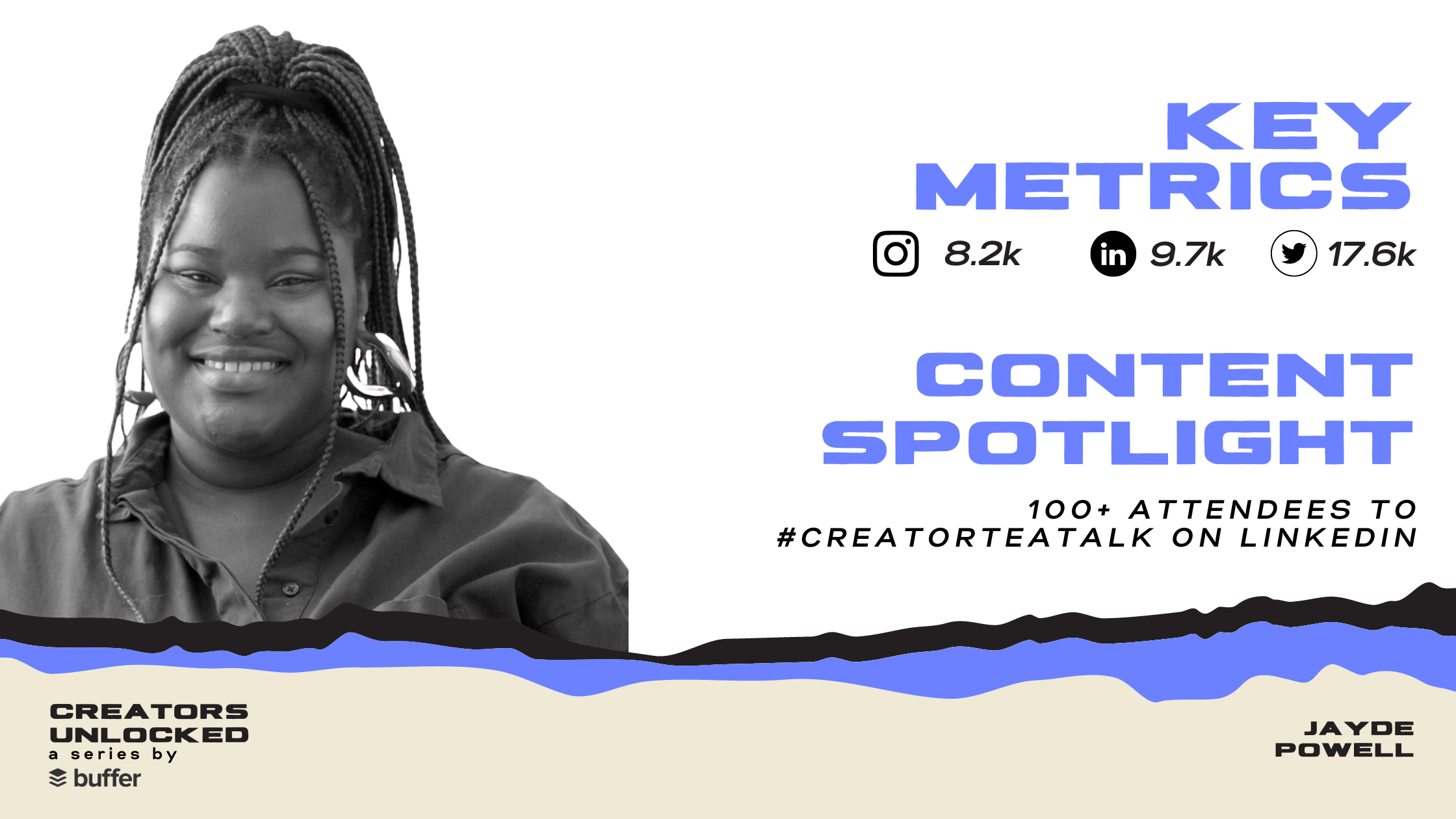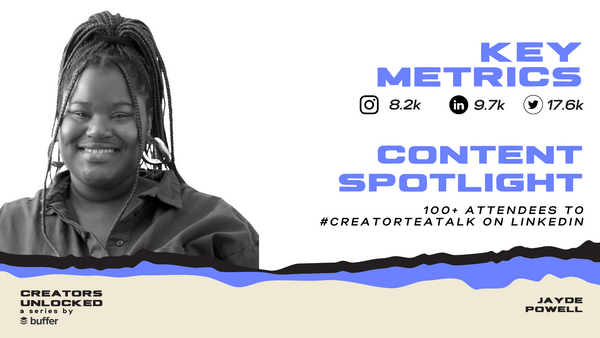 Q: Speaking of LinkedIn, why did you go with LinkedIn Audio Events for #CreatorTeaTalk over similar platforms like Clubhouse or Twitter Spaces?
That's the funny thing – when I had the idea for #CreatorTeaTalk, it was supposed to be on Twitter Spaces because that is where I have a community. I didn't even know that LinkedIn had an Audio feature, but the sponsor of my first two episodes pushed me to try it. I already had an idea and outline of what those first episodes would cover, but it didn't work out how we wanted so we decided to pivot.
We also considered Clubhouse and even TikTok Live, but in the end, we went with LinkedIn Audio Events because it made the most sense given the context of my show. The show, which is about bringing creators, influencers and brands, and marketers together to have conversations centered on the industry. And these people already use LinkedIn because they create content professionally.
What I've found since I launched the show is that people are making connections while the show is airing and after the show. So I think if it's a space where people can get more visibility into the work that they do, then those become like networking opportunities and potential paid opportunities down the line.
Q: You have a very distinct voice that feels true to you. What advice would you give creators who may be worried about showing up authentically online?
You have to do what feels natural and most comfortable to you while simultaneously not being afraid to push yourself outside of your comfort zone. If your instinct is to censor yourself, that's something you might want to rethink that.
I'm a big believer in showing up as your full self in all spaces, but depending on what those spaces look like, you may not be able to do that in the beginning. It's a matter of testing the waters, doing what makes you feel comfortable, and expanding that with time.
Q: One thing that many creators struggle with is consistency. Given that you publish pretty consistently on top of running #CreatorTeaTalk bi-weekly, what does your creative process look like?
I'm a marketer, so my brain is trained to think strategically, which is fortunate because I can combine that with creativity. For example, with #CreatorTeaTalk, episodes are based on cultural conversations combined with evergreen topics creators already discuss.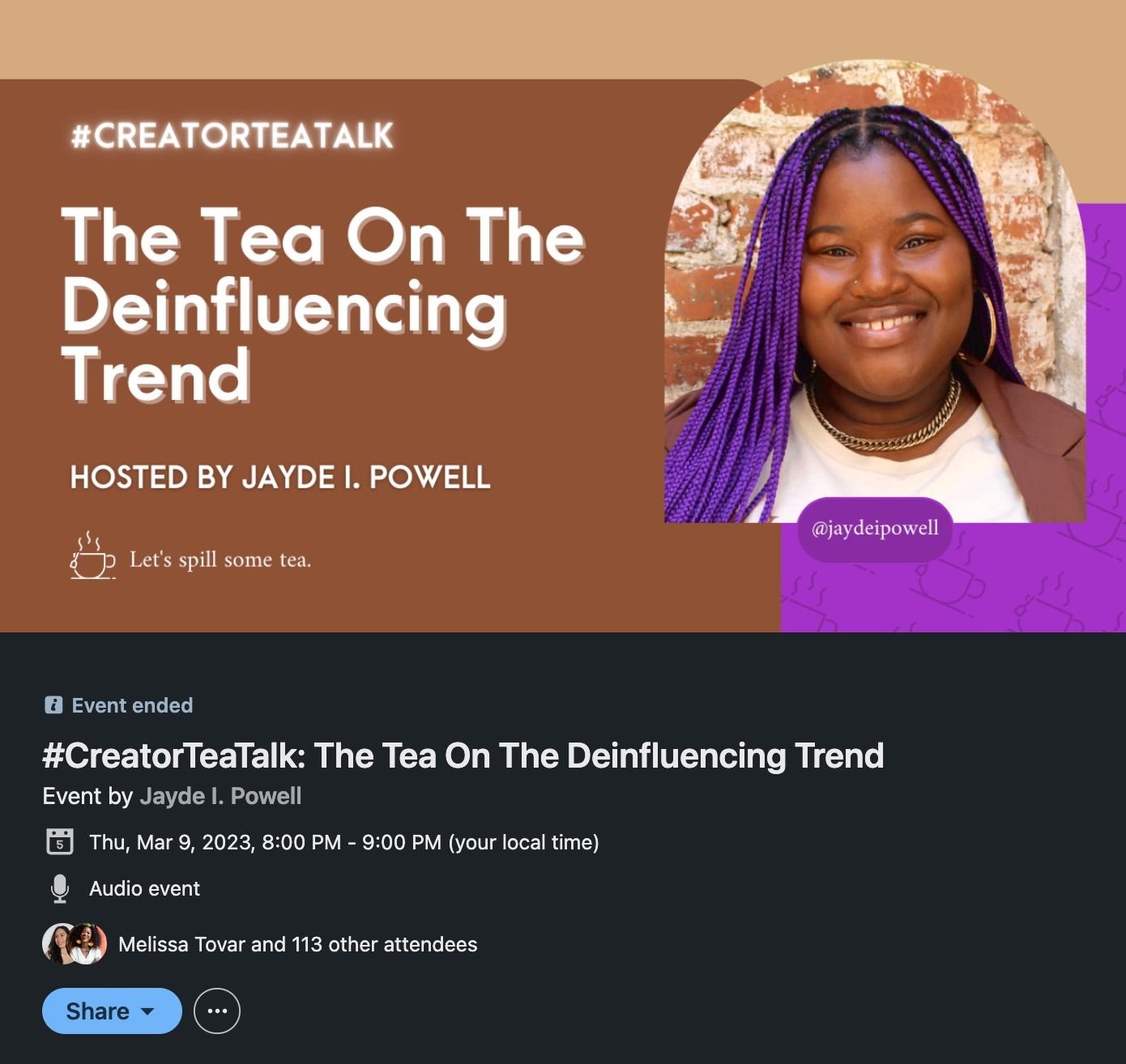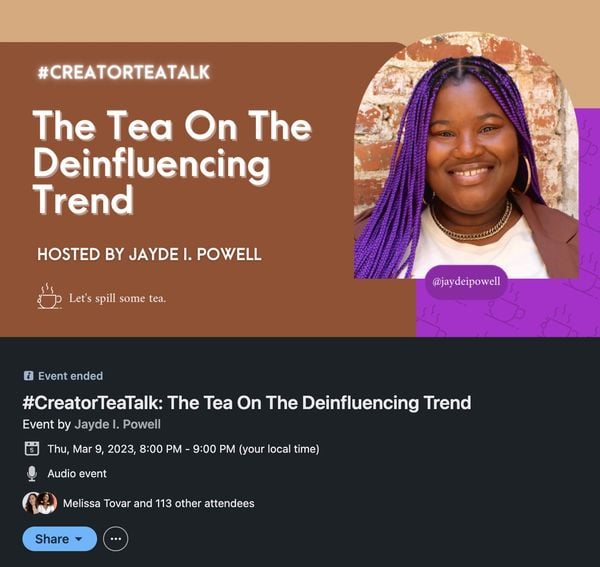 Essentially, I'm always looking out for interesting, timely conversations and pairing that with relevant topics that will engage my audience. I always want creators, influencers, and brands to actually get the insight that they need from the conversations.
Q: How do you find or are you working on finding a balance between the need to be on social media all the time as a marketer and creator and being present in your personal life?
Setting boundaries for myself has been great for balance. Ironically, my new boundaries were a big reason for my career change because I actually stopped being a full-time social media marketer in 2021. I stopped doing social media marketing for many reasons but one of them was that I was spending way too much time on social media. I still do marketing full-time but stepping back from the social media aspect means my time spent on it is no longer as aggressive.
I now take naps during the day, which helps me refresh and disconnect. I'm also more intentional about keeping my phone away while I sleep so I'm not checking it constantly (it used to sleep under my pillow with me).
One of the things I've done recently is turn off Story replies on my Instagram because my friends and my community will respond to my stories all day long. And because I want to engage, I'll reply to every single one but that's not sustainable.
Q: As someone very in tune with social media and creators, what are some trends and developments you've noticed that you think social media creators should be paying attention to?
Less of a trend and more of a prediction, I think we'll see many more creators establishing their own personal brands, which might take away the focus on influencers.
Consumers aren't necessarily trying to be influenced anymore – I think they want to see what creators are working on. Some people might become influencers, but simply creating on social media will help creators gain an audience and opportunities. We might also see more creators building businesses out of or related to what they create on social media.
We'll also see more people establishing properties across different channels. For example, how I started on Instagram and Twitter but have navigated over to LinkedIn, where I now have a show. In turn, more creators will evolve to create assets off digital platforms like books or TV series.
Q: You're not like a traditional content creator, but you hit many of the markers – lots of followers, lots of engagement, and a very engaged community. So what challenges have you faced in your own unique experience as a creator so far?
Being a non-traditional content creator is actually one of the more challenging things for me. I get invited to influencer and creator events which is great, but when it's time to network, I can't figure out the box I fit into. Different people perceive my online presence in different ways.
Another challenge is that I'm constantly educating brands that want to work with me that when they reach out to collaborate, they're not just getting content from me. They're getting years of knowledge, experience, and access to my strategy muscle.
Q: What advice would you give to creators looking to monetize their social media presence and build community with other creators, brands, and their audience?
One, figure out where your strengths lie because that will help you to determine what you can and cannot monetize. Two, know your unique selling proposition – what makes you stand out from other creators. Three, identify something that doesn't feel like work to you so you feel good doing it consistently. And four, think beyond the traditional ideas of monetization.
You may have a brand pay you to post about them or whitelist your content. But if you want to approach content creation like a business owner, determine what negotiations you can build from a brand partnership. Maybe that looks like being paid to go to an event and then make content about it. Or sharing your latest project or product with my email list. It's just figuring out what makes sense for you and the partnership that you're in.
Takeaways
Here are the top three takeaways from Jayde's journey as a creator:
Show up authentically online without fear: Jayde is a big believer that you should do what feels natural to you hand in hand with stepping out of your comfort zone. Don't censor yourself to fit in somewhere – if you have to, maybe that space isn't meant for you. And if you don't feel comfortable jumping in headfirst with your full personality on display, take your time to test the waters. You can always expand your authenticity with time.
Think beyond traditional ideas for what can be monetized: Content monetization is no longer the purview of brands – creators can take the power for themselves. If you get your first brand deal and their budget isn't quite what you're looking for, devise ways to upsell in other areas. Better yet, seize the means of creation for yourself and create a monetization strategy independent of other people's (or brands') money. Whether that's a newsletter people pay to subscribe to, or
Times are changing – focus on building an audience out of what you care about and your audience will find you: It's like Jayde said – influencers are making way for passionate creators. People want more out of their online consumption than just mindless scrolling and that's where the new generation of online creators comes in: the Educators. Creator-educator is a term coined by Jay Clouse to describe the people who use content to share their knowledge, and it's the future of content creation. Consider what unique expertise you have, be it making a specific type of cookie or an encyclopedic knowledge of bands from the '80s. Whatever it is, there's likely an audience out there, ready to listen.
Whatever you land upon as your unique content offering, share it through Buffer, the all-in-one toolkit for content creation.