Toyota announced today that it will commence sales of all-new Prius Plug-in Hybrid (PHEV) models, offered as the Z grade, on March 15. Developed under the Hybrid Reborn concept, the new Prius has been reborn as a high-performance version equipped with the latest plug-in hybrid system, which combines a compact, high-capacity drive battery, high-output drive motor, and high-efficiency gasoline engine.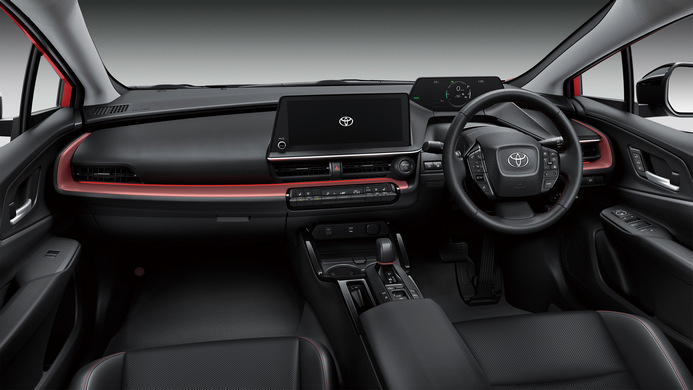 PHEV can cover the majority of daily driving, including commuting and going shopping, using just the electric power from the charged battery. It offers the outstanding quietness and brisk motor-based driving performance of a battery electric vehicle (BEV). The combination of motor and engine delivers the powerful yet comfortable driving performance unique to PHEV vehicles from the moment the gas pedal is pressed.
The new Toyota Prius PHEV achieves a high level of dynamic performance with a maximum system output of 164 kW (223 PS) of power. This model also offers great fuel efficiency of 26.0 km/L with 19-inch tires and 30.1 km/L with 17-inch tires. BEV driving distance is 87 km with 19-inch tires and 105 km with 17-inch tires, with the 105 km representing an improvement of 75% compared to the previous model.
The new Toyota Prius PHEV is equipped with Regeneration Boost, which is useful on mountain roads and in other situations that require regular switching between acceleration and braking. When set, this function provides stronger regenerative braking force than normal to deliver responsive driving performance while reducing the frequency of switching between the accelerator and brake pedals.
The new Prius PHEV is equipped with a second-generation solar charging system that efficiently converts solar energy into electricity, providing enough power to drive up to 1,250 km per yearin BEV mode. With a highly efficient solar panel installed into the vehicle roof, the battery can be charged in parking lots where there are no charging stations, or even during blackouts from disasters or other causes, as long as the sun is shining.
Electric power generated from the solar panel is used to charge the drive battery while parked, with the system not only supplying electricity for driving but for air conditioning and other functions as well. The system also supplies the auxiliary battery system when driving to reduce drive battery consumption.
Toyota is working on all-round development of electric vehicles, including PHEVs, and hydrogen engines to achieve carbon neutrality and provide a range of options to customers around the world.
---
---
---