When it comes to reducing emissions from human sources, we're at the point now where we need to take a broad-based approach. It's not enough to simply make our cars more efficient, or start using cleaner power plants. We need to hit carbon zero, and thus everything has to change.
To that end, even recreational watercraft are going electric in this day and age. Several companies are developing motor-powered models that deliver all the fun without the emissions. But to do that, they're taking to the air.
Wave Racers (Batteries Included)
The jet ski is a simple enough craft to understand. You put a powerful combustion engine into a small hull big enough to stand or sit on. You pair it with a jet drive that squirts water out the back to propel it at great speed. The result is a lightweight, fun watercraft that pairs great agility and acceleration with noise loud enough to annoy wealthy lakeside residents.
However, that formula doesn't work as well when you try to shift to electric drive. The reason, as always, is down to energy density. Throw enough batteries into a jet ski to run a powerful electric motor for any decent length of time, and it's suddenly far too heavy and far too bulky to be much fun at all. Alternatively, you can make one that's lightweight and enjoyable, but it'll only run for a few minutes.
For that reason, the new crop of electric personal watercraft have tended to explore alternative designs. Instead of a simple hull sitting on the water, they tend to employ hydrofoils instead. As the craft gains forward speed, the hydrofoil travelling beneath the surface of the water generates lift. This reduces drag as most of the the watercraft is lifted above the waterline. It can reduce the energy expenditure required by up to 70%. That's of huge benefit when you're running on electric power. It's a far more efficient way of getting around on the water, and lets a battery powered craft run for longer with a smaller, lighter battery pack.
A well-known device that exploits this principle is the Fliteboard eFoil. It's nothing like a jet ski; instead, it's similar to those hydrofoil surfboards that lift you above the waves, but it adds an electric motor. Instead of having to pump the board with your legs to generate lift, the electric motors handle that job instead. Thus, you can skate along above the water in a kind-of-elegant, kind-of-strange fashion. The problem with the eFoil, though, is it takes a lot of skill to ride. It requires balance skills similar to riding a surfboard or skateboard, and is steered by the rider shifting their weight around.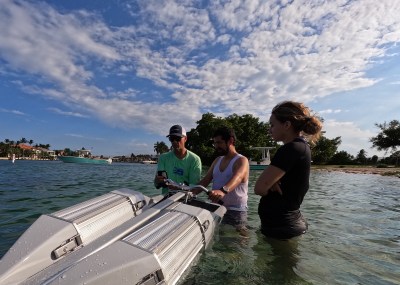 The hydrofoil principle still has merit, though, and that's how it ended up in the Pelagion HydroBlade design.  The HydroBlade looks like a stripped-back stand-up jet ski from above the water. Below the waterline, though, it has a pair of electric propulsion units good for 16 kW peak output, and a hydrofoil for generating lift. Out in front, there's a rudder controlled by the handlebars that allows the rider to steer. Thanks to the efficiency of the hydrofoil-based design, it's rated to cruise for up to four hours, with a top speed of 70 km/h. While it's still in development, the company has targeted a 60-mile range for the design. The craft runs an 11 kWh, 58 kg battery pack, which makes up over half of its total 104 kg weight.
The prototype Flyway electric water scooter is another player in this space. The prototype machine looks almost identical to first-generation standup jet skis. Beneath the conventional-looking hull, though, is a large boom leading down to a hydrofoil and underwater propulsion system. It's referred to as a "water scooter" by its creators, as it uses a propeller for propulsion, rather than a water jet. Details are scarce, but the craft looks to be great fun in a demo video released late in 2021.
Electric watercraft come with one main benefit over traditional jet skis. Without the roar of internal combustion engines, they can be much quieter, albeit water noise is still a thing. Some have raised concerns about the risk of fire, given the splashy attention given to burning EVs in the media. It's one thing to flee a burning electric car, when one can simply run away on foot. It's another to deal with a malfunctioning high-voltage battery when you're sitting next to it in mildly-conductive seawater. Ultimately, there's not a huge risk of electrocution, but you're going to want to swim away fast if those cells catch fire. Fundamentally though, unlike a car on the freeway, a burning electric jet ski will likely simply sink into water which will extinguish much of the combustion.
Ultimately, the days of putting internal combustion engines in everything with reckless abandon are soon to be over. Various jurisdictions are introducing laws requiring more vehicles and equipment to turn to zero-emissions power sources. The jet ski will not be a protected species when this legislation becomes mainstream around the world. Thus, fans of motorized water escapades are turning their efforts to developing a new generation of electric recreational watercraft. As they should!